Hello I'm new on here although I've been reading this board for about a year. I'm a film maker and I own a small collection of blank guns two of which have recently began giving me problems.
I own two PPKs which I picked up in 2006 while in germany for the world cup. both have stoped being able to fire properly and I've discovered the problem is the same on both blank guns. I am quite fond of these two peices as they look great and have been used on quite a few of my Bond spoofs.
there is a little peice on the right hand side of the chamber that helps cycle the blanks for semi auto fire that has come loose and falls out so the guns do not fire in semi auto properly anymore. I've tried all methods of re-attaching them unsuccesfully (epoxy and soldering don't stand up to the heat of fireing a blank).
I've reattached the peice with epoxy but it only last for about 4 rounds of fire before the epoxy comes off because of heat.
I figured I need to have the peice welded back since that will be the only form of bonding that will take the heat. The peices are too small for a regular weld, so I can't just take them In to an auto shop. I was wondering if anyone has any ideas of how I could get this peices welded together and fixed.
I'm in new york city so I can't find a gunsmith anywhere near by. I'm shooting a short for festival submission in about a month and I'd like to have my PPKs for 3 scenes so I need to get the part fixed asap.
ANY help is much appreciated...thank you.
Also I'm looking to sell my blank fireing berreta couger, It's brand new...I want to sell it becuase I just got my hands on a front venting version (better for film use) anyone interested please let me know.
thanks
SEAN

sean007davis




Posts

: 6


Join date

: 2009-03-21



Welcome!

Not sure I follow you on which part broke- the extractor, the thing that hooks the rim of the spent round and pulls it out? If so, then welding it in place isn't what you want to do- it's rigged up to a spring, and is supposed to be able to move some. I'd be curious to see what broke and how, if you could put a picture up online somewhere.

You might also be able to contact the manufacturer and order spare parts. I believe Umarex bought Reck a while back.

Where are you based? I've got a couple PPKs (including one front venting) available for rent.

Where'd you get the front-venting Cougar?
[img]
[/img][img]
[/img]
[img]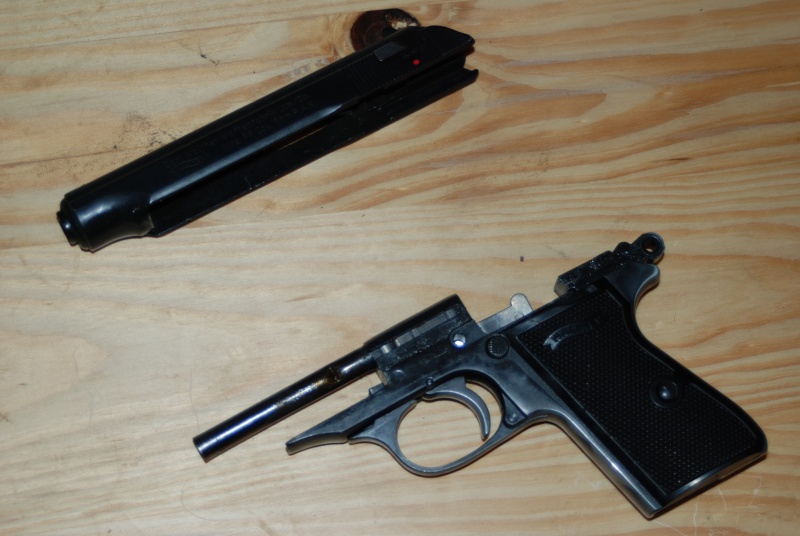 [/img]
here are some pics of the peice and the area in the PPK it came from...
it isn't spring loaded its supposed to be a solid peice.
any help is appreciated I just need to solidly attach the small peice to the main part.
also the front venting cougar is made by Valtro and I'm getting it from germany.
I want to sell my EKol and Voltran Couger first...it's brand new if any one is interested
[img]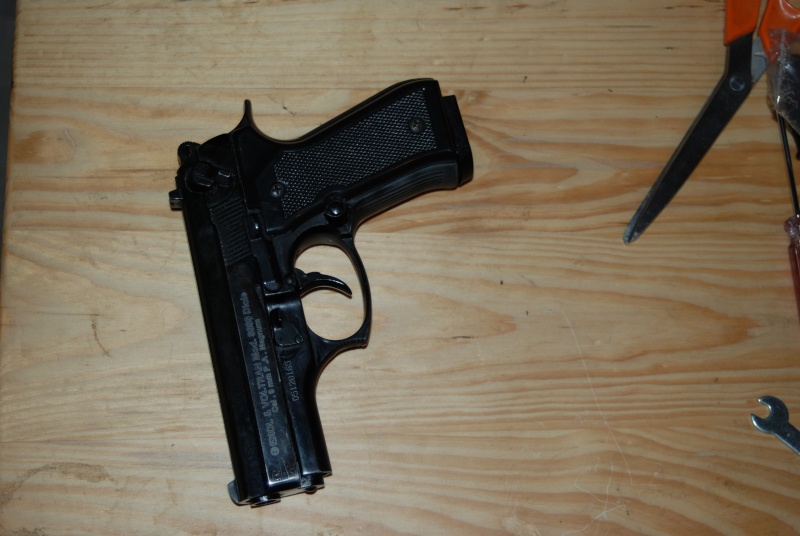 [/img]

sean007davis




Posts

: 6


Join date

: 2009-03-21



Interesting. Yours is a different model than mine. Is that a slide release? Can't tell when it's disassembled, but it looks like a pin through the middle and a lever type thing on the left side of the frame, below the slide... yes?
Sorry for the bad picture... mine's an old Reck, without the Walther trademarks, and it looks like some other differences.

No slide release on mine, then, I'm not sure what else that piece would be in your picture.

Are you in the US? If so, I'd be curious to hear how ordering from Germany works out for you, and who you bought from. If you're in the US, that also means I could rent you some of mine if you ever need more. Front venting now available in P99, PPK, 1911 Commander, and a couple variants of the Glock.
I'm in the states on the east coast...I have a friend in germany who gets me the front venting peices.
I would not mind renting a front venting 1911 and maybe another front venter (not the glock though, I have one and the muzzle is a little to wide open for my liking)
I don't know if i can rent for this project though since it's just my little short and I'm shooting on a 0 budget. How would renting from you work though since you are clear accross the country.
You can email me direct at GRAGADFILM@gmail.com

I really need to get my walther fixed in the NExt two weeks because I have the blank silencers for them and since the short has some takes on "james Bond" I need to use the walthers. any info would be of great help thank you.
SEAN

Email me I'd like to see if I can get a hold of a front venting 1911 for the weekend of the shoot if possible.

sean007davis




Posts

: 6


Join date

: 2009-03-21



Just remembered there's more pictures of the Reck 1911 in the "Gallery" section of this forum.
https://fightdesigner.forumotion.com/gallery/Gallery-of-Props/Gallery-of-Props-cat_c1.htm
---
Permissions in this forum:
You
cannot
reply to topics in this forum